Fiber Cement Siding | James Hardie Siding
Fiber cement is a very popular siding material made, as the name suggests, from wood fibers and cement. It is commonly referred to as James Hardie or Hardie siding, as James Hardie was the first company to bring the material to the market. To this day, James Hardie is the largest fiber cement paneling manufacturer in the world. This attractive, highly durable material was successful seemingly overnight, with residential and commercial contractors lauding its traits. Compared to other common exterior materials—such as vinyl or aluminum—fiber cement siding has greater versatility. Its aesthetic properties allow it to mimic the appearance of natural wood or brick with remarkable likeness, and it requires very little upkeep.
HISTORY AND MANUFACTURING OF FIBER CEMENT SIDING
Wood fibers and cement, when combined with a recipe of sand, chemical adhesive, and water, form Hardie siding. The mixture is rolled out and pressed into sheets of varying thicknesses. The sheets are put through a massive oven, having all of the excess moisture baked out of them. When, after twenty-four to forty-eight hours, the manufacturing process is complete, results are impressive—Hardie siding is tough, sturdy, and aesthetically pleasing. Many fiber cement siding manufacturers will offer a guarantee with their product, typically for twenty-five or more years. Each brand's product varies in quality, with the main points of difference lying in the type of chemical adhesive used.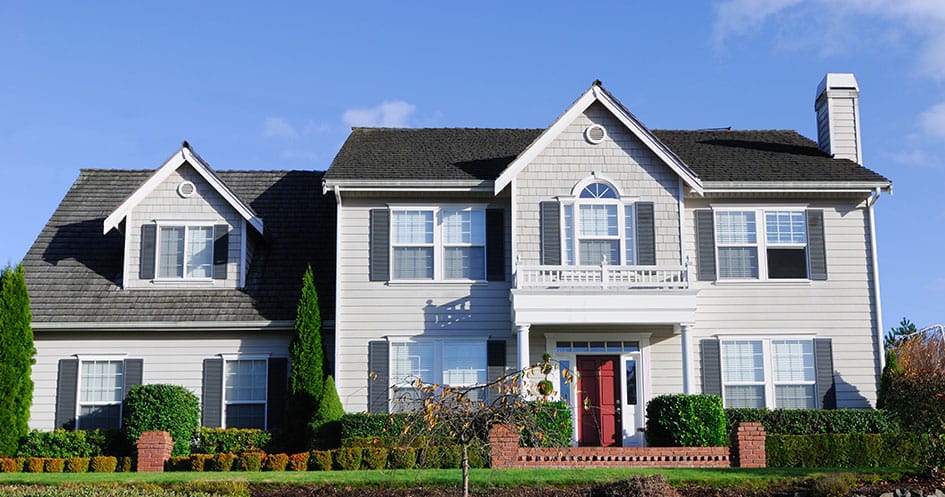 Fiber cement siding is commonly called James Hardie or Hardie siding. It's inventor, James Hardie, developed the material and introduced it to the world in the 1970s. It quickly became popular, and his company grew to an impressive size. Soon enough competitors began to appear, mimicking his product and process. James Hardie's eponymous company, though, remains at the top of the sector. Engineers at James Hardie and other companies are constantly refining the process and product, improving upon the original. Today, fiber cement paneling is lighter, prettier, and more easily workable than earlier iterations. James Hardie's company has also expanded its offerings to include a variety of different panels crafted to withstand different climates.
ADVANTAGES OF FIBER CEMENT SIDING (HARDIE SIDING)
Fiber cement and vinyl compete for the title of most popular siding material in the United States. Fiber cement, in particular, offers a hard-to-beat combination of the best aspects of other siding materials.
Some of these remarkable traits include:
Pleasing Aesthetic
Fiber cement is a multi-purpose material, able to adapt to a wide range of styles. Manufacturers shape the product to appear as if it is stone, brick, or even natural wood. Whatever you are hoping for in terms of aesthetic, fiber cement can get you there.
Strength and Longevity
Properly installed fiber cement products are impermeable—entirely unaffected by moisture and therefore invulnerable to rot. It is also a very strong and resilient material, highly resistant to impact, rarely denting or breaking.
Insect and Rot Resistant
Natural wood paneling—fiber cement's regular competitor—is a beautiful product, but its entirely organic nature renders it vulnerable to termites, weather damage, and decay. Fiber cement, on the other hand, cannot, by its nature, rot. It is also unattractive to termites and other pests. This feature is particularly beneficial to people in wet areas, and on homes or buildings that spend much of their time in the shade, as these are factors which predispose exteriors to rot and insects.
Easy to Paint and Stable
As a synthetic and impermeable material, fiber cement also has the advantage of remaining completely stable. It does not alter in size or shape as moisture and temperature change around it. As a result of this impermeability, paint applied to fiber-cement remains in peak condition for a remarkable length of time. If well cared for, a single paint job can last for upwards of fifteen years. As an additional bonus, when it does come time for fiber cement siding to be repainted, the old paint does not need to be removed. There is not scraping or sanding involved, the new paint can simply be applied right over top of the old coat.
Fire Resistant
The cement present in Hardie siding renders the material invulnerable to flame as well as moisture. This non-flammable nature is often a great source of peace for both home and business owners, allowing them to rest easy in the knowledge that their exterior is safe from fire. Some insurance companies will even offer discounts on their fire insurance policies for buildings with fiber cement siding.
Available Primed and/or Pre-Painted
Most producers of fiber cement siding offer primed or pre-painted materials to their clients. Home and business owners who choose pre-painted siding panels will typically receive a warranty from the manufacturer. Average guarantees are around fifteen years. Pre-treated versions of the material do tend to be more expensive, but the quality and durability of factory paint are significantly longer than aftermarket paint, making it worth the investment.
James Hardie Colors available:
| | |
| --- | --- |
| | Arctic White |
| | Woodstock Brown |
| | Navajo Beige |
| | Cobble Stone |
| | Traditional Red |
| | Autumn Tan |
| | Monterey Taupe |
| | Heathered Moss |
| | Boothbay Blue |
| | Countrylane Red |
| | Sandstone Beige |
| | Khaki Brown |
| | Timber Bark |
| | Mountain Sage |
| | Evening Blue |
| | Iron Gray |
| | Chestnut Brown |
| | Aged Pewter |
| | Sail Cloth |
| | Gray Slate |
| | Rich Espresso |
| | Light Mist |
| | Night Gray |
| | Pearl Gray |
Manufacturer's Warranty
Most fiber cement siding manufacturers offer a guarantee on their product. Lasting between thirty and fifty years on average, these warranties make provisions for a wide variety of factory defects. These warranties make the material a reliable financial investment.
FIBER CEMENT SIDING INSTALLATION
One of the major benefits of fiber-cement sidings is its remarkably low-maintenance care. It also brings an instant upgrade to your building's appearance. If you are on the hunt for a high-quality, low-cost, low-maintenance product that will transform the look of your home, Hardie paneling is a wonderful option to pursue.
While Hardie siding is an easy material to care for, it's installation is somewhat complex. It is recommended that home and business owners seek out an experienced and well-reputed contractor for the job. If the material is improperly installed, it will see decay much more quickly than it would otherwise. In some cases, improperly installed paneling can violate insurance policies. It's a good idea to check in with your provider and get clear about their specifications for exterior installation.
Siding in Pittsburgh is a fully-licensed, well-reputed company, and we would love to help you with your construction work. Give us a call at the number listed below. Together, we can make your building safer, more valuable, and more aesthetically pleasing through the installation of Hardie siding.
Call for a free estimate on your home or building: (412) 201-0305
Or E-mail: info@SidingInPittsburgh.com