Vinyl Siding
Vinyl is the most popular siding material in Pennsylvania. Its remarkable ubiquity is not unfounded—it offers a beautiful aesthetic and requires very little in terms of maintenance. A fairly inexpensive material to manufacture, it is also a very affordable material offered at high value per board. It is available in a wide range of shades and hues, and every single one of its colors is highly resistant to damage. In the manufacturing process, the pigment is mixed into the vinyl material itself, so the color goes all the way through each board. As a result, vinyl boards hide scratches and marks very well. When the top layer is damaged, the next layer down is the exact same color. Vinyl is offered in a wide variety of forms, including shakes, shingles, panels, and boards. The installation cost of vinyl is also quite low, as it is a straightforward and relatively simple process. The high-value material, combined with its low-cost installation, makes it an enormously cost-effective product.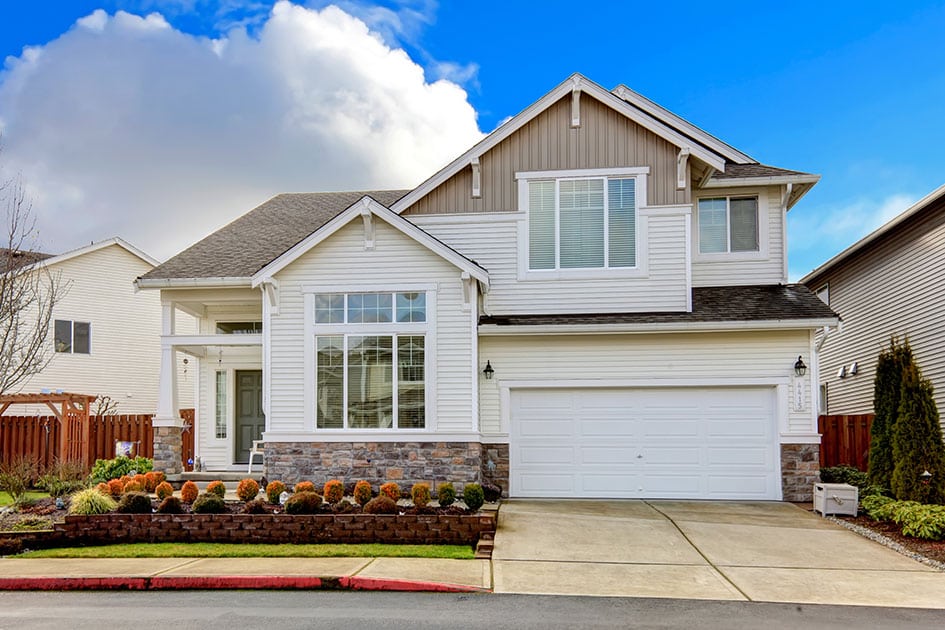 Whether you are renovating, remodeling, or building something new from the ground up, vinyl siding is a wonderful choice for your exterior. The manufacturing process for the material allows it to appear remarkably like natural wood, while its synthetic nature renders it invulnerable to a wide variety of adverse weather conditions. Due to its pigmentation, the material also does not require staining, scraping, or painting. The product is also very easy to care for—requiring only a simple washing now and again in order to appear aesthetically pleasing.
BENEFITS OF VINYL SIDING
Does not require painting
Low-maintenance and easy to clean
Offered in a variety of colors
Offered in a number of different styles (e.g. scallops, lap, fish scales, shakes, etc.)
Offered with an option of insulated foam to help increase energy efficiency
Durable and long-lasting
Home and business owners all throughout the Greater Pittsburgh Area speak very highly of their vinyl siding. The material's high-quality aesthetic and structural properties make it well-suited to a variety of construction projects. The material is offered in a variety of colors and textures, granting creative control to home and business owners as they choose their new siding. In the past, vinyl was primarily manufactured in a limited range of neutral colors. Today, it is offered in a huge range of shades. It's more vibrant selections can serve artistic, individualistic homeowners very well, enabling them to have their home stand out from the crowd. Subdued hues tend to work very well for more traditional owners. Regardless of the color that you choose, the hue will last for a remarkably long time. Since the pigment runs all the way through the product, its color rarely sees any significant degradation. Scratches and dents are hardly visible, and there isn't a paint job to mar or mark.
HISTORY OF VINYL SIDING
Vinyl siding was brought to the construction market in the middle of the twentieth century. Originally marketed as a synthetic alternative to aluminum siding, it was touted as a highly durable product. The first few iterations of the material were not particularly high quality, as the process of manufacture was quite new. By the 1970s, however, a number of advances had been made and vinyl siding became a high-quality, highly durable material. Other manufacturing advances made the production of vinyl more efficient and enabled the product to last longer and stand up to greater adversity in terms of weather and impact. Producers also began to offer a wider range of colors and styles, which customers immediately latched onto. Since this time, vinyl siding has been on a significant upward slope in terms of quality and sales. In fact, the material had more-or-less secured the title of most popular exterior product before fiber cement was invented and began to offer some competition.
Vinyl products are offered across a wide spectrum of quality. As a general rule, a product's quality is related to its thickness. Thinner, lower-quality options tend to run about 0.3 mils. Thicker, higher-quality products tend to measure closer to 0.6 mils. Vinyl's famous durability depends on the composition employed by the manufacturer. Each process and recipe results in a slightly different material. Many of the larger manufacturers offer a variety of thicknesses in their paneling, accommodating a larger range of budgets and clients. Thicker versions of the materials tend to be more static and durable, lasting longer than their thinner counterparts. Thicker panels also offer greater resistance to vinyl siding's greatest weakness: a tendency to crack in freezing temperatures or when hit by a blunt object.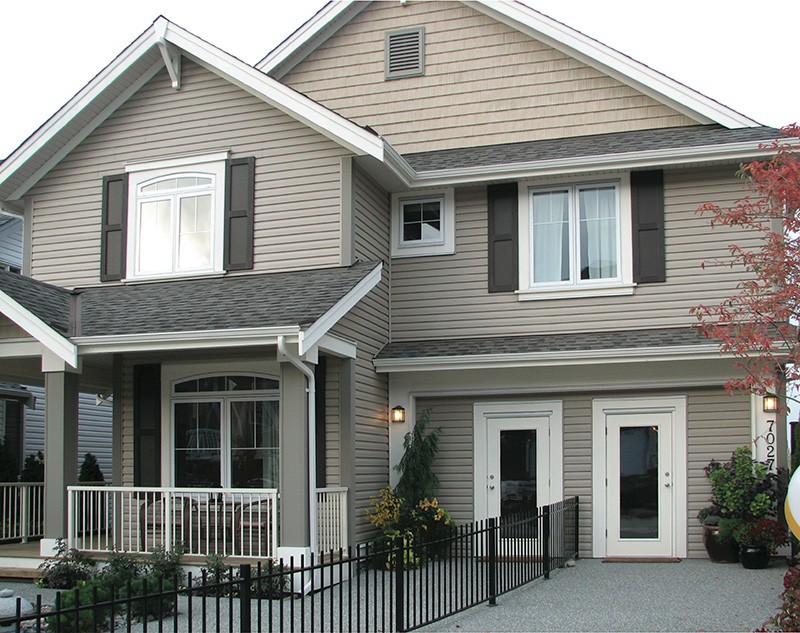 The formula of any particular vinyl siding varies from manufacturer to manufacturer, with each recipe producing a different product. When you are selecting the vinyl paneling that you are going to use, it is good to find out the details about the products UV protection. This particular quality can have a great effect on the longevity of your new exterior. In most cases, UV coating is a baseline factory feature, but some producers omit this key step. As a general rule, the higher quality the vinyl overall, the better its UV protection—and its longevity—will be.
TYPES OF VINYL SIDING
Vinyl is offered in a wide variety of shapes, sizes, and colors. Some of the most popular forms are replications of other materials, such as replica wood, replica brick, replica stone, and replica paneling boards. Most common of all vinyl shapes is the certified traditional siding. Newly developed, highly reliable manufacturing procedures used to produce these materials allow for an impressive likeness between the vinyl and original versions. This allows homeowners with tight budgets to achieve the appearance of high-end, high-cost materials without shelling out enormous amounts of money.
Vinyl also has a number of unique qualities to recommend it. It tends to be highly durable, with greater resistance to weather and damage than its organic counterparts. It does not rot, peel, or require painting, and it is offered in nearly any color imaginable. The most important consideration when choosing vinyl siding is its thickness. Thicker panels are longer lasting and more durable than thinner panels.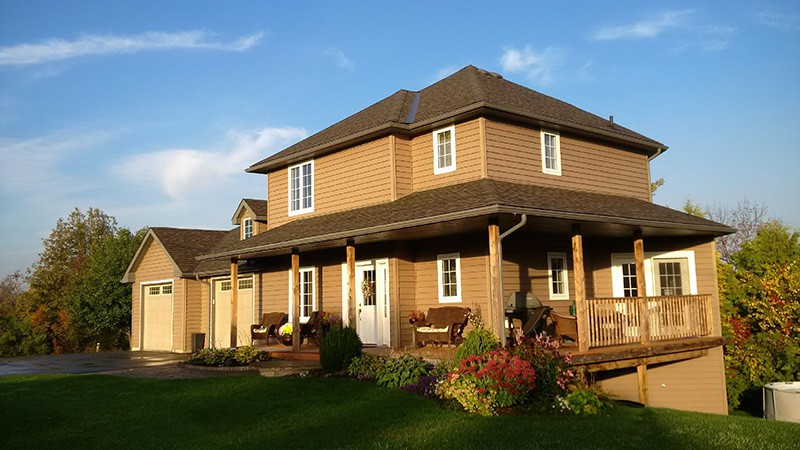 One of vinyl's most praised traits is its remarkably attractive appearance. New vinyl siding is a quick, easy, and relatively inexpensive fix to a fading home exterior. The product is highly versatile and can be installed over the top of wood, brick, stone, and concrete, amongst other materials. If you are looking for a fast fix, vinyl can get the job done. Working with Siding in Pittsburgh, you can have your exterior go from shabby to ship-shape in no time at all. Give us a call! We can make your home feel new again.
INSULATED VINYL SIDING
One of the perks of vinyl siding is that it is also offered with an additional layer of foam backing. These insulated panels have surged in popularity over the course of the last few years. They provide building owners with the low-maintenance durability of vinyl, along with the added benefits of increased energy efficiency and reduced noise pollution. Foam and vinyl are something of a dream team, offering high-quality appearance, remarkable durability, decreased outside noise, and increased energy efficiency all in one neat package. Many homeowners report rises in energy efficiency well over 30%. The second layer of foam applied to the back of the panel also serves as additional structural support, making the product even more durable than vinyl alone.
While insulated vinyl siding is a larger investment upfront, it is well worth the expense. Foam-backed panels bring significant financial returns over the long term. Most homeowners see remarkable increases in resale value and energy efficiency.
An investment in foam-insulated vinyl siding will bring you:
All benefits of normal vinyl paneling
Greater insulation and lower utility bills
Increased durability as compared to most other exterior products
Significant reduction in noise pollution
VINYL SIDING INSTALLATION
Vinyl is an all-around good choice for home and business owners. It's low-maintenance, highly durable nature lends itself well to a wide variety of exterior projects. Experts in the siding industry recommend that home and business owners search out well-qualified and licensed professionals to ensure that their siding is installed properly. Here at Siding in Pittsburgh, we offer top-notch, fully qualified siding installations at an affordable price.
Give us a call. We would love to work with you and install beautiful new vinyl siding on your home or business.
Call to request a free estimate: (412) 201-0305
Or E-mail: info@SidingInPittsburgh.com
Pittsburgh | New Castle | Weirton | McKeesport | Steubenville | Greensburg | Indiana
Butler | Washington | New Kensington | Lower Burrell | Uniontown | Jeannette | Aliquippa
Beaver Falls | Latrobe | Monessen | Connellsville | Clairton | Duquesne